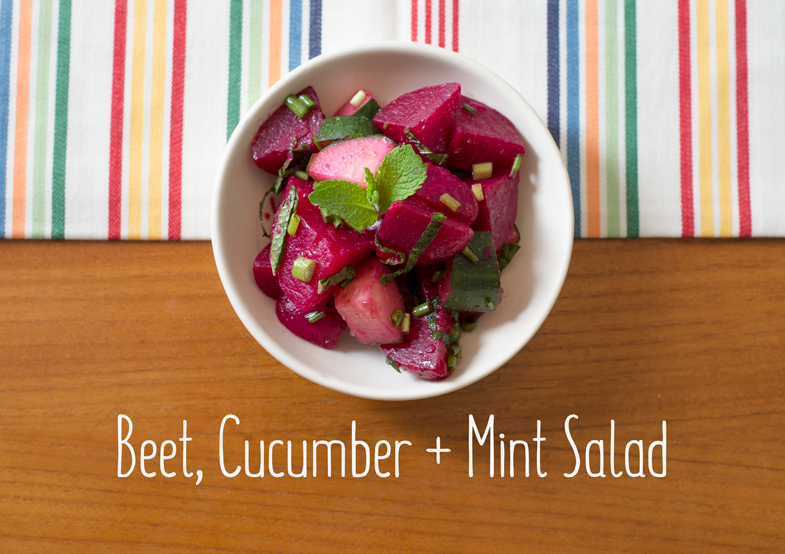 I love this cities summer farmers markets, with their incredible bounty of fresh and local produce. The beets this year, with their luscious tops, are truly beautiful and delicious and I'm on a bit of a beet kick this month. I love the versatility of beets. In the winter they're an excellent addition to hearty soups and stews, while during the warmer months, they're wonderfully refreshing to enjoy in salads (both raw and cooked). Beets are packed with incredible nutrients, being an excellent source of folate, a very good source of manganese, potassium and copper as well as a good source of dietary fibre.
According to whfoods.com, beets are a unique source of phytonutrients called betalains. The two best-studied betalains from beets are betanin and vulgaxanthin, which have been shown to provide antioxidant, anti-inflammatory, and detoxification support. The detox support provided by betalains includes support of some especially important Phase 2 detox steps involving glutathione. Betalain pigments are found in other foods (like the stems of chard and rhubarb), but the concentration of betalains in the peel and flesh of beets provides a much greater opportunity for these health benefits.
Cooking your beets
Boiled, steamed and roasted are all delicious ways to prepare beets. Choose your favourite cooking method for your beets; you can't really go wrong.
Boiled: Fill a large pot with water and bring to a boil. Add unpeeled beets and boil until fork tender, about 45 minutes. Drain the beets and refill pot with cold water to allow beets to cool. Using your thumbs, peel the beets by rubbing the peel under cool water.
Steamed: In a large pot, add 2 inches of water and insert stainless steel steamer basket. Bring to a boil. With stems and root trimmed to 2 inches and unpeeled, cut beets into quarters. Add to basket and steam covered for 15 minutes. Beets are done when fork tender. Place cooked beets in cool water and using your thumbs, peel the beets by rubbing the peel under cool water.
Roasted: Preheat oven to 400F. Remove the tops and roots. Peel and cut beets into 1 1/2 inch cubes. Place the beets on a baking sheet and toss with 2-3 tablespoons of olive oil or coconut oil. Roast for 35 to 40 minutes and allow to cool.
This is one of my favourite ways to enjoy beets during the summer. Combined with the cucumber, lime and mint, this salad is cool and refreshing, while the addition of ground clove adds a nice touch of spice.
Beet

,

Cucumber

and

Mint

Salad
6 small to medium beets, cooked and cubed (roughly 3-4 cups)
2 cups cucumber, cubed
1/4 cup green onions, chopped
2 tbsp extra virgin olive oil
1 tbsp apple cider vinegar
1 lime, juice and zest
1/4 tsp ground clove
1/4 tsp sea salt
12 fresh mint leaves, chiffonade
In a small bowl, combine EVOO, ACV and lime juice.
In a large stainless steel bowl, combine beets, cucumber, ground cloves, lime zest and sea salt.
Add olive oil, vinegar and lime mixture and gently combine.
Garnish with green onion and fresh mint and ENJOY!