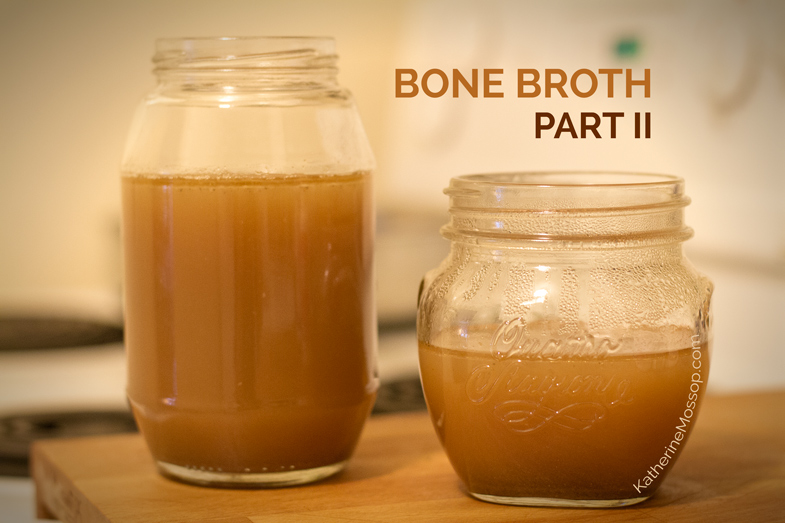 In Part I of our two part series on bone broth, we learned how healing and soothing this nutrient dense food is for our hair, skin, nails and joints as well as our intestinal lining and overall digestion. Bone broth has a long history in most traditional cultures, but has lost much of its appeal due to convenience preparations of canned soups, bouillon cubes and tetra packed broths.
In this post, we'll be looking at how to make your own bone broth and ways to include this super nutritive food into your daily life.  You can't make a bone broth without bones! If you're new to bone broth, I recommend starting with chicken. It's generally milder in taste than beef, lamb or pork and requires the least amount of simmering to get a rich nutrient-dense broth. Once you get this under your belt, you can graduate to other animal bones, and if you're feeling really adventurous, you can mix and match your bones for a hodgepodge of deliciousness!
The Stock Pot
First things first, you need a stockpot! Look for a good quality large stainless steel pot. Alternatively, you can use a crock-pot to make your nutrient-dense gelatinous bone broth. You'll also need a mesh strainer, a funnel and some clean glass jars for storage.
Sourcing bones
Talk to your local butcher – Many butchers will sell extra bones in the freezer section. You can find backs, necks, wings and sometimes feet. These parts contain a lot of cartilage and, as you've learned, this is where all the gelatin is hiding. Bones from beef, pork, lamb, turkey, duck and geese are also delicious options. When choosing the best bones for beef, look for knuckles, neck bones, and meaty rib bones.
Visit your local farmers market – Have a chat with some farmers who raise pastured animals.
Roast a weekly chicken – If you frequently roast chickens for family dinners, make sure you save the carcasses. Two to three full carcasses work well for a rich batch of broth. After I remove the meat, I place the carcass in a large freezer bag and place it in the freezer for later use.
Homemade Bone Broth
(recipe adapted from
Nourishing Traditions
)
2 lbs of bones, pastured if available (parts such as necks, backs, breastbones, and wings)
2 chicken feet for extra gelatin (optional)
1 onion (with skins)
2 carrots
2 stalks of celery
2 bay leaves
2-4 tablespoons apple cider vinegar
enough water to just cover the bones (about 3.5 litres for every 2 lbs of bones)
Optional: 1 teaspoon peppercorns, additional herbs or spices like thyme, rosemary. You can also add 1 bunch of parsley in the final 20 minutes to add additional minerals to the broth.
Place bones, roughly chopped vegetables, bay leaves and vinegar in a stainless steel pot and add just enough filtered water to cover the bones (3.5 – 4 litres). The vinegar helps to draw the minerals out from the bones like calcium, phosphorous, magnesium, sulphur, potassium and sodium.
Bring to a boil. You'll notice a froth develop on the surface. These are impurities and can result in a bitterness in your broth. Use a spoon to remove this and discard. Typically pastured sourced bones will produce much less of this than bones from conventionally sourced animals.
Reduce heat and simmer from 6 to 24 hours.
Remove from heat and strain using a fine metal strainer to remove all the bones and vegetables. Allow to cool and then store in glass jars, ensuring not to fill past the shoulder of the jar (this is to avoid the jars from shattering during expansion in the freezer). Store in the fridge for up to 5 days, or freeze for later use (good for several months).

A good gelatin rich bone broth will gel in the fridge, but if your broth doesn't gel, don't fret! It will still be nutrient dense and loaded with minerals. But what went wrong? There are a few reasons why your broth may not have gelled. Not adding enough joints that contain cartilage like backs, necks and feet and/or adding too much water. The quality of the bones is also key. Bones from conventionally raised animals don't tend to yield a good stock due to their lack of gelatin and overall nutrients.
You may also notice a nice layer of fat on top which is great for roasting or sautéing veggies (let nothing go to waste).
Simmering Times
Beef, pork or venison broth: 24 to 48 hours
Chicken and other poultry: 6 to 24 hours
Fish broth: 4 to 24 hours
How to use your bone broth
Just drink it! It's delicious with just a good pinch of sea salt.
Use it as a base for homemade soups, braising meats and vegetables, stews, sauces, gravies and reductions.
Now go make some bone broth!
New to making bone broth? Perhaps you're a seasoned simmerer of broths. How do you like to use it? Let me know in the comments!