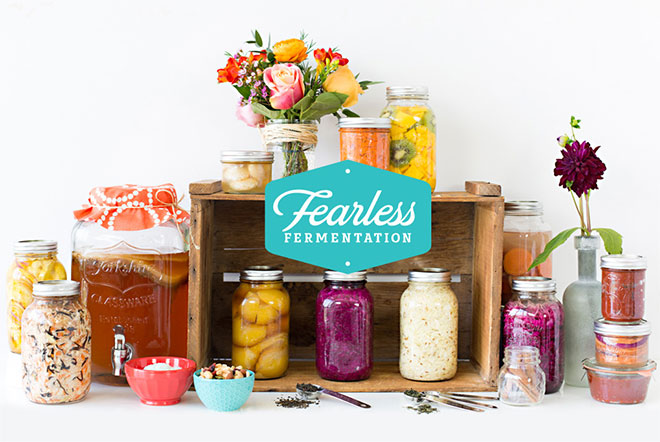 The human body hosts TRILLIONS of bacteria in the digestive tract and recent science is showing how incredibly important these are for our health and well-being. From immune support, vitamin synthesis to creating beneficial enzymes, these bacteria, or probiotics, essentially have our backs. Many people take probiotics to help replenish and keep their gut flora healthy, but we can also help keep these colonies populated and healthy by enjoying fermented foods on a daily basis.
Cultures around the world have been enjoying fermented foods for thousands of years. Not only was fermentation used to preserve foods, but cultures also understood the beneficial effects these foods had on their digestion and overall health. Many eastern European cultures enjoyed fermented milk products like kefir, yogurt and buttermilk. Sauerkraut and other fermented vegetables have been enjoyed by many cultures since the Roman era. In Asian cultures, a variety of fermented foods are enjoyed on a daily basis, from kimchi, pickled turnips, fermented fish sauces and miso. In ancient India, many consumed lassi, a fermented yogurt drink, to help aid in digestion.
Many of us have lost touch with the basics of preservation. Our ancestors relied on fermented and preserved foods to get them through drought plagued summers, harsh winters or just to preserve the perishable bounty from growing seasons. This knowledge was passed down so that future generations could survive.
Today we rely heavily on a commercial food system to keep us fed. Sure, it's easy to go to the store and buy fermented foods like sauerkraut and kombucha, but did you know it's much more cost effective to make your own? I'm talking pennies! Plus, it's incredibly satisfying to make something with your own two hands (with, of course, the help of some naturally occurring friendly bacteria).
With some simple guidance and a little effort, you can start making your own fermentations for you your family and gain all the nutritional benefits that come with it.
Learn how to make your own delicious ferments with Fearless Fermentation!
In Fearless Fermentation, Toronto-based nutritionist, Sarah Ramsden shows you step by step, in her fun, video-based, online classes how to make your own delicious fermentations for you and your family. You'll gain confidence as you listen and learn about how to make fermented foods and why it's important to enjoy them on a daily basis.
In Fearless Sauerkraut she'll show you how to:
select a cabbage
choose the right salt
prevent mold
make your first batch of delicious sauerkraut!
as well as understanding the science behind it all.
In her Fearless Kombucha classes you'll learn:
what a SCOBY is
how to grow and care for a SCOBY
how to make your first batch of effervescent kombucha!
as well as the wonderful properties that make kombucha so delicious.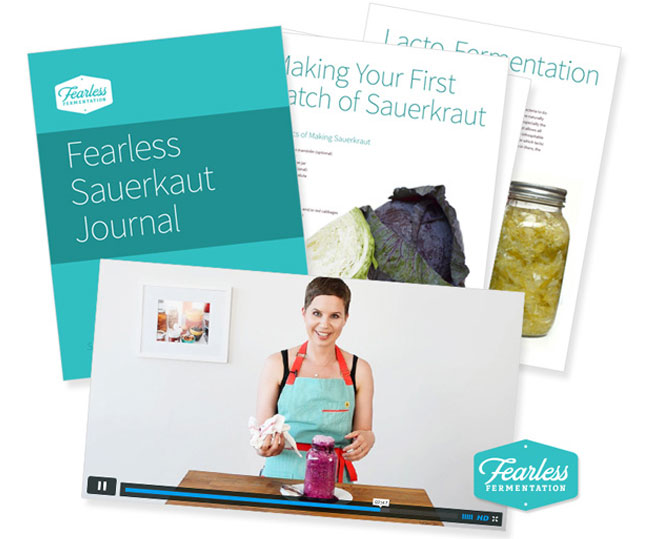 Each class features three fun online videos of instruction as well as downloads to resources for finding supplies, transcripts, a personal journal to help you keep track of your progress and experience, troubleshooting guides and additional delicious recipes including Apple Raisin Sauerkraut and Oolong Mango Mint Kombucha!
Sign up for a class and you'll have an exclusive membership to the Fearless Fermentation Community on Facebook, where you can get help from Sarah and your fellow classmates. Check it out and take charge of your health by learning how to make your own fermentations so you and your family can start enjoying more homemade probiotic rich foods!