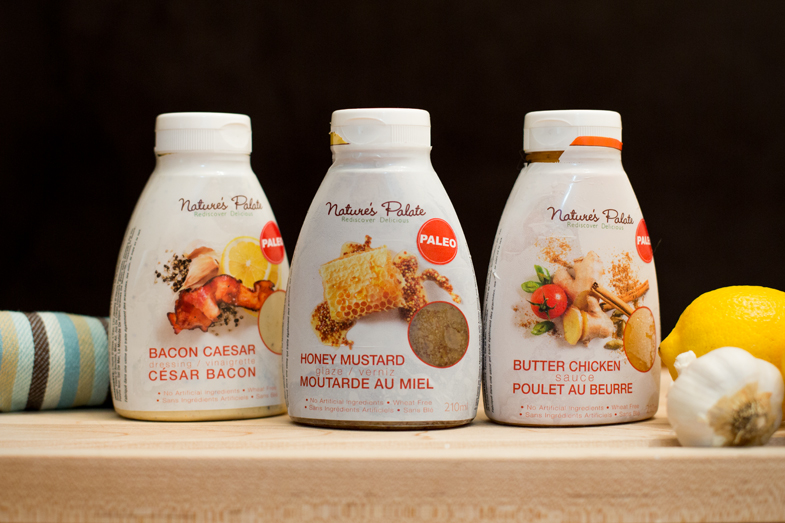 Perusing the aisles of the grocery store, we are often lured by attractively packaged and taste-tantalizing products. We see the words Organic and Natural and instantly think HEALTHY, but turning these products over to read the ingredients, we realize they're full of industrial seed oils like canola, soybean and other vegetable oils, refined sugars, colours, chemicals and preservatives. Many of these ingredients are pro-inflammatory and certainly don't have our health in mind.
While it's nice to make your own condiments from scratch, it's also nice to have convenient options for those crazy busy times in your life. Thanks to Nature's Palate, these products completely take the worry out of wondering about undesirable ingredients. They're super clean eats!
Nature's Palate, a Toronto based company, offers a gluten-free, paleo-friendly product line with your health in mind. They have created 3 delicious sauces: Butter Chicken, Bacon Caesar Dressing and Honey Mustard Glaze. They're delicious and I'm hooked. They, quite literally, had me at butter chicken.
And now for the taste test…
Butter Chicken Sauce
Just saying the words Butter Chicken gets my mouth watering. Butter chicken is one of my favourite indian dishes and this sauce truly satisfies my tastebuds, boasting some delicious indian spice combinations in a base of onion, tomatoes and New Zealand grass fed butter. That's right, grass fed butter from New Zealand. It doesn't get any better than that.
We enjoyed this sauce on some oven baked chicken thighs.
Bacon Caesar Dressing

This dressing rocks! It's sweet, salty, tangy and bacony. Double smoked bacony. I found the best way to try the bacon caesar dressing was on a simple salad of mixed greens, cucumbers, shredded carrots, red onions and leftover chicken. This dressing is pretty much a staple now in our home.
Honey Mustard Glaze
This paleo friendly glaze is a delicious addition to the pantry. With a lovely heat from the mustard and the sweetness from the honey, this paired very nicely with a wild salmon filet. It was also delicious with some bun-less burgers. I could see it working nicely with a roast chicken and even a roast pork.
Want to get your hands on these paleo-friendly sauces? Check out their store locator on their website for a location nearest you!
Have you tried these sauces? Let me what you think in the comments!