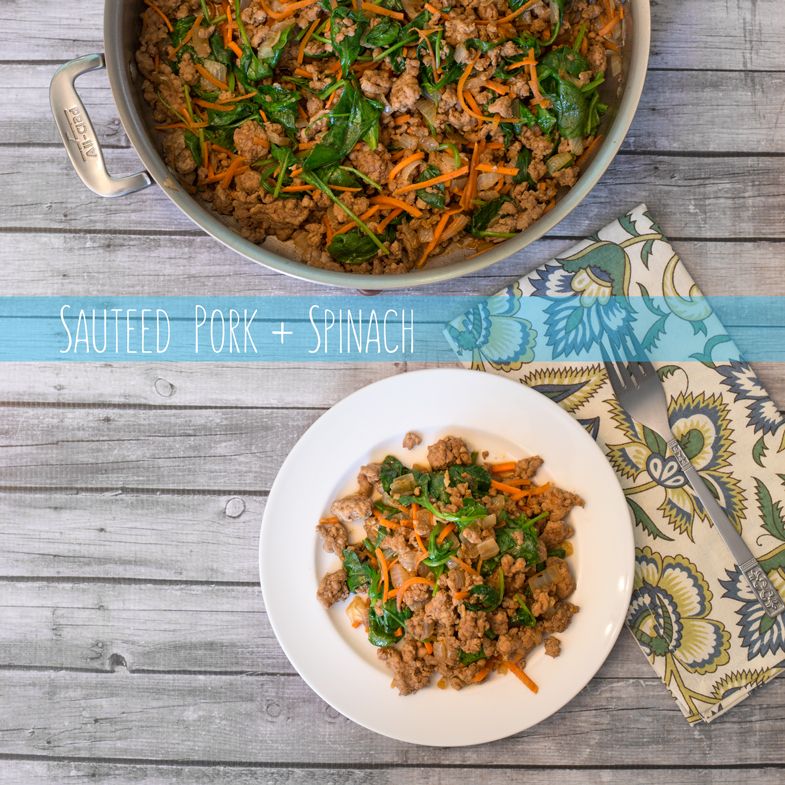 After a long day at work, reaching for the take out menu seems like the quickest fix for a meal. But, with a simple recipe like this Sauteed Pork and Spinach, you'll be eating in less time than it takes for pizza or Chinese food to be delivered. This is one of my 'go to recipes' for my fuller work days and is great for lunch leftovers the next day.
Sauteed Pork and Spinach
1 medium onion, chopped
2-3 cloves garlic, crushed
1 tablespoon of ghee or coconut oil
1/2 cup shredded carrot
1 lb ground pork
1 tbsp chili powder
1/4 tsp cumin
1/2 tsp red pepper flakes (optional)
4 cups baby spinach
sea salt (I use a 1/2 tsp)
On medium heat, saute onion in coconut oil/ghee until almost tender, then add the garlic.
Add ground pork and continue to cook with onions/garlic.
When pork is almost cooked, add the chili powder, cumin, red pepper flakes and sea salt (to taste).
Add shredded carrot and cook for a couple of minutes.
Add spinach and turn off heat. Combine spinach until nicely wilted.
Serve with a side salad, snow peas or your favourite vegetable (or two).
Alternatives: Change up the protein for ground beef, chicken or turkey. Instead of spinach, add some Swiss chard, kale or even beet greens. You can also add your favourite spice combination to change the flavour of the dish.
These fresh and tasty ingredients were delivered to my door by RealFoodToronto.com.