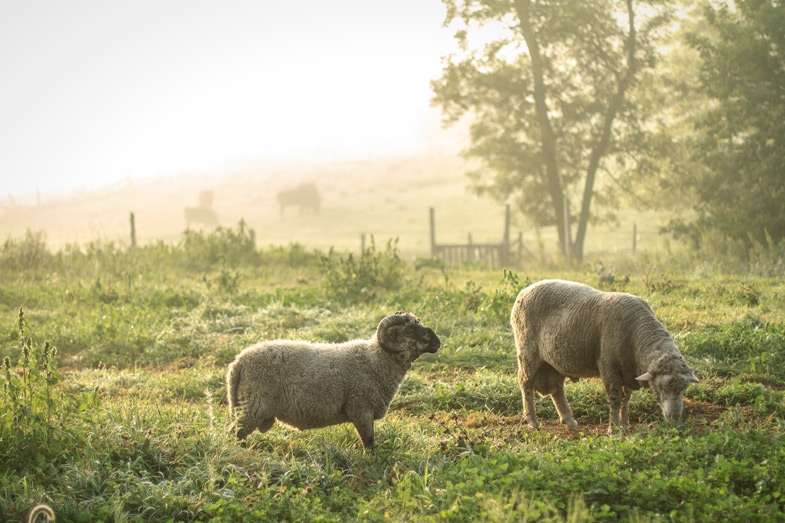 I've always considered myself a city girl. I love the convenience and choice of butchers and farmers markets within walking distance of my home and I love the array of cultural neighbourhoods to peruse and experience new epicurean delights. But I also have a strong affinity for nature and recall many happy moments in my childhood spent amongst the trees and building forts in bushes.
This month I completed my co-op hours at Thyme Again Gardens; a 115 acre certified organic farm in Prince Edward County that also hosts a beautifully warm and inviting Bed & Breakfast. In choosing an organic farm to do my co-op placement, I wanted to gain an understanding of where our food comes from and experience the hard work that goes into putting food on our tables. Eight days at the farm gave me the experience I was looking for and so much more.
Owners Lorraine and Lori are a remarkable couple and they made me feel very welcomed and right at home. A few steps from their lovely Victorian era farmhouse I had a lovely little camper to call home for the next eight days. It didn't take long for my circadian rhythm to reset, rising with the sun (and the chatty rams behind my camper as well as a couple of roosters at the other end of the farm) and retiring to bed early, pleasantly sore and tired after a long day of manual labour.
My first morning, Lori took me around the farm to show me how chores were done. Chores consist of ensuring the animals on the farm have plenty of clean water, feed and access to pasture. These include chickens, turkeys, pigs, a Maremma sheepdog name Clyde, sheep, rams, Gloria the llama, beef cattle, a horse and a donkey. They've also recently acquired some honeybees! Some chickens are raised for meat while others are for eggs. The cows and sheep are 100% grass-fed!
I loved connecting with the animals. The sheep were particularly friendly, although one almost took me out at the knees because I stopped scratching her head. Gloria, the llama made me a little nervous at first. She has a very piercing gaze and if you ever have a staring contest with a llama, be prepared to lose; they always win. Recognizing I was a new addition to the farm, Gloria made a beeline for me when I entered the sheep's pasture. I treated her like I would any new animal at first; I ignored her. She thoroughly investigated me, shoving her nose into my neck and various other parts as well as snuffling through my hair and face. After a few minutes of frisking, I had gained llama acceptance, which is important as to avoid being spit on. She ignored me for the rest of my stay.
I also made friends with a young turkey. After an injury to her leg, she was secluded from the rafter (I had to look this one up; a group of turkeys is known as a rafter) in order to heal. I named my new friend Cranberry (because cranberry goes well with turkey) and I carried her in a basket to various areas of the farm.
As I worked to tie and hang mennonite garlic for drying, prepare vegetables for the farm stand or weed and water the tunnels, Cranberry was there with me. Anytime I moved out of her sight, she would start to whistle (something turkeys do when they panic). As soon as I was in view, she would relax and proceed to eat grass, forage for bugs and make the most adorable little trill sounds. She also had a lot of naps; napping turkeys are freaking adorable. After a few days, Cranberry gained good strength and was placed back with her rafter.
Thyme Again sells much of their produce and meat from their onsite farm stand as well as participating in the Wellington Farmers Market and a local and Toronto CSA (Community Supported Agriculture) A CSA is an organized network that brings the consumer and farmer together. Members of the program pay at the onset of the growing season for a share of the anticipated harvest. I was able to get first hand experience in the work that goes into preparing and organizing a CSA run to Toronto.
The work starts 6 hours prior to departing to Toronto, a 2 hour commute from the farm. The staff arrive early to freshly pick, wash and weigh the harvest. Lorraine and I left the farm with a beautiful bounty of fresh fruits and vegetables which included: beets, purple beans, carrots, crabapples, apples, zucchini, cucumbers, welsh onions, kale, dandelion, mixed greens, blueberries, fresh herbs and fresh cut flowers.
Lorraine is passionate about the food she grows and loves to connect with the members, each one greeted like an old friend. It was wonderful to connect with the members as they came to pick up their goods, each one delighted at the array of farm fresh organics offered for the week. It really felt like community and the experience made me appreciate how much work farmers put into providing food for our tables. Next year I am planning to participate in their CSA program.
As Lorraine and I are both graduating in October as Certified Nutritional Practitioners, we spent many afternoons and evenings working on recipe sharing and development and creating delicious foods using many ingredients grown on the farm. Both of us are passionate about nutrition and using food as a tool to heal. Our creations were paleo/primal and delicious and included chicken liver pate, crabapple sauce, banana coconut chia pudding, stir fries, plus a variety of salads and wraps using napa cabbage leaves. We also baked paleo and vegan cookies and muffins to sell at the farms open gardens weekend.
Although I missed my husband and my kitties, I was very saddened to leave the farm. I had an amazing time connecting to the earth, animals, and plants, and to the people that work there everyday. I also got a classic farmers tan and some stronger muscles. Organic Farming is not for the faint of heart; it takes complete dedication, round the clock work, management, business and people skills, passion and patience.
To Lorraine and Lori, thank you so much for an unforgettable experience and making me feel at home. I plan on making this experience my annual "getaway" every year. I'll be seeing you again soon!