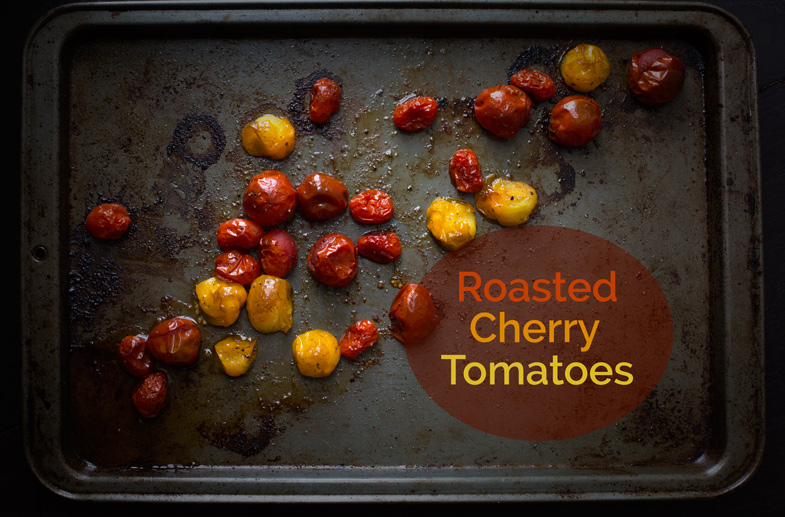 Cherry tomatoes. They're pleasingly sweet, acidic and juicy and are perfect in salads, sauces, pizzas, pastas, omelettes and for snacking. They are also very simple to grow and I love including them as part of my balcony garden each year to provide fresh tomatoes for cool summer dishes.
Nutritionally, tomatoes are pretty amazing. Most well known for their vitamin C content, they also contain B complex vitamins, potassium, magnesium, phosphorus and calcium. They are also a rich source of carotenoids like lycopene, which appear to protect against cancers like prostate. You can read more about tomatoes and lycopene here!
Roasting cherry tomatoes is really simple and takes very little time. A little olive oil and simple seasoning takes these sweet little things to a whole other level. I love just eating them out of the oven straight off the pan. 😉
Roasted Cherry Tomatoes
Preheat oven: 400F
Time: 15-20 min
1 pint cherry tomatoes
1 tbsp extra virgin olive oil (EVOO)
1/4 tsp sea salt
1/4 tsp black pepper
1/4 tsp dried savory
1. Wash cherry tomatoes and lay out on a baking sheet
2. Drizzle with EVOO and sprinkle sea salt, black pepper and savoury
3. Combine with your fingers to coat
4. Roast in the oven for 15-20 minutes, making sure to toss once halfway through. Tomatoes are done when they've blistered and burst.
5. Enjoy!