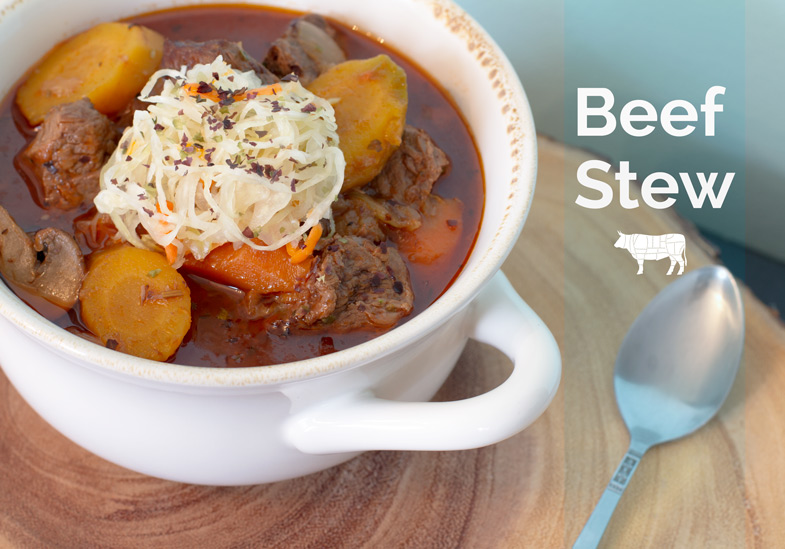 There is nothing more comforting than a warm bowl of beef stew on a cold wintry day. Stews are hearty, versatile and satisfying. Their meat and vegetable combos can vary, as can the thickness of its soup-like broth. Low and slow cooking renders tougher cuts of meat into mouth watering deliciousness. Ah yes, my mouth is watering just thinking about it.
The versatility in its nutrition is incredibly varied, from its array of vitamins and minerals from the meat and veg, to its collagen-rich gelatin content depending on whether you use a stock or bone broth as the base. Stews can be whatever you imagine just by changing up your ingredients and spices. Much like soups, they can be good for what ails you.
Choosing a meat for your stew is pretty simple, as it`s in the name: stewing beef. Stewing beef comes from cuts found on the front of the animal; the chuck, brisket and shank are well exercised muscles, making them tougher cuts. These tough cuts are full of incredible flavour. Long and slow stewing times are needed to help break down the connective tissue so that the meat renders and falls apart. For this recipe, I used a delicious 100% grass-fed wagyu beef from New Zealand.
Beef Stew
Equipment: Dutch oven
Preheat oven to 300F
2 lbs stewing beef
3 tbsp tomato paste
1 tbsp of healthy fat (tallow, lard, butter, ghee, coconut oil, olive oil)
1 large yellow onion, diced
4-5 medium carrots, peeled and roughly chopped (about 3 cups)
8 crimini mushrooms, washed and quartered
3 cloves garlic, crushed
1 tsp Herbes de Provence
3 tbsp apple cider vinegar
2 cups beef stock
black pepper and sea salt to taste
Instructions
1. Combine tomato paste with beef broth and set aside.
2. Pat stewing beef dry and sprinkle generously with salt and pepper.
3. Melt 1 tbsp of healthy fat in a large Dutch oven over medium-high heat.
4. Add the meat in a single layer, making sure that the pieces do not touch, and cook until browned on all sides. Work in several batches so you don't overcrowd the pan. Remove browned pieces of meat to a bowl to collect the juices.
5. Add onions, carrots and mushrooms, sautéing for a few minutes.
6. Add garlic, spices and apple cider vinegar to help deglaze the rest of the fond (brown bits) on the bottom of the Dutch oven.
7. Add browned stewing beef, the juices collected and beef broth/tomato paste blend. Combine ingredients and place in the oven for 3 hours. Your stew is ready when the meat is fork-tender.
8. Serve hot and enjoy with your choice of garnish: fresh parsley, sauerkraut, kelp/dulse flakes, shredded daikon radish or your favourite combination.
Want to add some greens to your stew? Wash and chop a bunch of kale and add it to your stew at the end. Simmer it on the stove top for another 10-15 minutes and enjoy!
Ingredients for this recipe were purchased through RealFoodToronto.com